Just 5 days to go for the 2010 Comrades Marathon. Team India for the first time ever is well represented with as many as 9 runners running under the Team India banner (one of them though is from Canada). Here is the entire list of Indian Runners (i.e. runner's who have registered with their "Club" being mentioned as India, in contrast to Indian runners who are either non-residents or have nationalities of other countries). Race# – Name.
58806     Daniel Carroll (Mumbai)
29384     Satheesha Gujaran (Mumbai)
21264     Tanvir Kazmi (Delhi NCR)
29387     Shahid Mansoor (Chennai)
38537     Nagesh Rao (Canada)
38875     Dalal Sanjay (Mumbai)
21548     Amit  Sheth (Mumbai)
33374     Neepa Sheth (Mumbai)
29408     Rahul Verghese (Delhi NCR)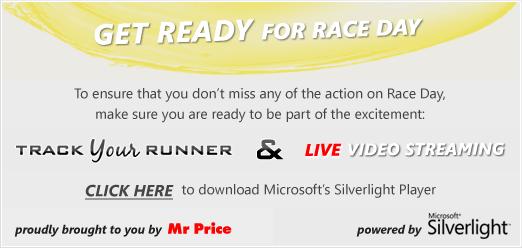 Come race day on May 30th, you can follow all the above runners live on www.comrades.com using the Track Your Runner service on the website, which will track the progress of runners as they cross the 5 designated checkpoints on the route. There will also be live streaming from the finish line all along (download Microsoft Silverlight to use that). The cutoff points and timings are as follows:
Cato Ridge (30K) 5:10:00 (Durban time 10h40)
Drummon Halfway (45K) 6:10:00 (11h40)
Winston Park (57K) 8:30:00 (14h00)
St. Johns Avenue (70K) 10:00:00 (15h30)
45th Cutting (83K) 11:20:00 (16h50)
Of course, the race has to be completed within the overall cutoff time of 12:00 hours at the finish line!
The race will start at 5:30 am local time and finish 5:30 pm. So, in India, that corresponds to a start time of 9:00 am and finish 9:00 pm (3 and a 1/2 hours time difference).
Check out the Facebook group of Indian Runners running the Comrades Marathon 2010 to know more about these runners.