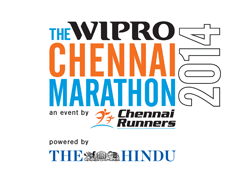 I will break the 5 hours goal at The Wipro Chennai Marathon into two logical sections, the first 21.1K and the second 21.1K. We will budget time in the second half of the race as runners gradually find it tougher, particularly after the 30km section, with running conditions also getting tougher with the effects of humidity and rising temperature.
For the records, this event would be my 15th marathon in my 10 years of running, and incidentally, the first one in Chennai. It would be also my 4th marathon of the year, perhaps the most I have run in any single year. The year started off with Mumbai (4:49), then Hyderabad (4:35) in Aug, Bengaluru (4:22) in Oct, and now its Chennai time!
The Race Strategy
Below is the basic calculation around which the race strategy will be centered.
First half target time: 2:20
First half pace: 6:40/km. Running: 6:25/km
Second half target time: 2:40
Second half pace: 7:30/km. Running: 7:10/km
As you will notice above, there is a difference between the required pace and the running pace for either the first half or the second. The transition from the first half running pace to the second half pace of 7:10 would take pace gradually. The extra time caters to the small stops we will be making at each water station, drinking about a small cup or two, and walking through the stop. Hence the extra budgeted 15-20 seconds per km, which translates to say 30 seconds walk through time for each water station. This budgeted time also takes into account the slowing down which we will experience when going through any elevation changes.
Are You Ready?
Finally, it would be important for any runner targeting an under 5 hours finish to introspect and see if they are ready for it. Following are some checkpoints to see how ready you are to run an under 5 hours marathon.
Have run a half marathon in 2:20 in similar conditions
Have run a 10k in 1:05
Have run a 5k in 31 mins
Have run at least one 32k training run recently
How many of the above have you been able to run successfully, in the last few months. That would give a realistic assessment of how ready you are for running an under 5 hours marathon.
Having been part of various pacing groups, either as a pacer, or a follower, or even just an observer, I don't fail to notice how many people who start in a pacing group drop off gradually. Similarly, there is a big set which has fallen back from their initial goals, and merge into your group later on. More often than not, it's due to people looking at targets which are beyond their current capabilities. Try to avoid that mistake, and choose your pacing group wisely.
How to find me on Race Day?
I will be running with a flag clearly identifying the pacing group, i.e. 5:00 Hours, mentioned on the flag. I am not yet sure where exactly will I be starting off from in the run, but I am sure people will not find it difficult to identify the pacers with the flags.
I will also be present at the Expo at the Chennai Trade Center, a day before the race. It would be a nice opportunity for me to talk with people and address their queries and any doubts. So, feel free to catch me at the expo. I should be available for the first half till lunch time (approx. till 2 pm).