This is an initial draft of my experience at Comrades Marathon 2010. I will be editing this, updating with photos and stuff soon, keep checking back for more updates in a day or two.
Race Summary: Distance: 89.28KM   Finish Time: 11:56:29
More details and splits for me are available on the results page here.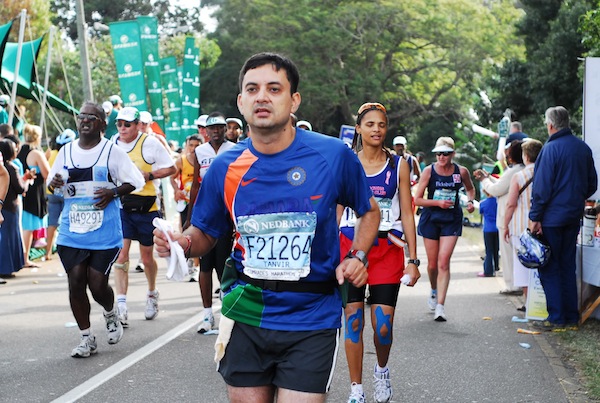 Why am I in South Africa, running the Comrades, an 89K run (or more precisely 89.28KM in 2010) between Pietermaritzburg and Durban. It is considered crazy enough in India to run just a Marathon. Running is still not big here, at least the long distance one. Just an example from the 2010 Mumbai Marathon would be sufficient to illustrate this, there were 1100 starters for the 42K, and just about 650 finished in the allocated 6 hours. Things are getting better though, people are developing a taste for the endurance, more and more races are coming up all over India even though they are small as far as participation figures go. In fact, there are only two leagues in India, the Big one with just Mumbai Marathon to fill that slot, and multiple small ones all with less than 100 42K finishers. After having got a few marathons under my belt, it was time to break some more limits. An ultra marathon would be the logical next choice and narrowing down the candidate to one for my first ultra was not a difficult decision. India just has one big ultra, the Bangalore Ultramarathon, with runs of 50K, 75K and 100K. However, the route is pretty uninspiring from what I have heard, a 6.5K up and down pounding on a trail route around Bangalore. So, that left me looking at something beyond the borders, and well, there was Comrades Marathon, the world's largest ultramarathon by a large margin. To compare it with some other large ultramarathons, particularly in the USA which is like a big hub of ultrarunning, the largest ultramarathon in the US has just about 1,000 finishers which is the JFK 50 Miler. I believe another ultra in South Africa, the Two Oceans Marathon in Capetown, a 56KM run, might just be the second largest ultramarathon in the world. Comrades? Most years see participation in the range of 13-14,000. That's how big it is, and since 2010 was supposed to be a special year for South Africa with the FIFA World Cup happening around the same time as Comrades, the enthusiasm amongst runners was amazing, which resulted in about 23,500 registrations, including about 1,100 international registrations.

The Training
To be updated with training mileage details from Jan-May. Ultra training runs done were as follows:
IIT Kanpur 50K (Feb)
Nainital Hill Training Run 56K (Apr)
Dehradun 40K (May, target was 56K)
The Cutoff
The Comrades Marathon is a legend not only for its history, but also for some of its traditions. The run has a 12:00 hour overall cutoff for the finish time as measured by the Gun time from start. The moment it is 11:59, the chief race official goes to the finish line with his team and with a gun, and precisely at 12:00 hours from start, he fires the gun indicating the official closure of the race, and his support staff immediately blocks the finish line with any runner after that left to rue his luck. The last person to finish, and the first person to not finish get instant fame in South Africa, with their joy and anguish spread wide in the local dailies. The 12 hours cutoff at the finish line is not the only cutoff, there are five more cutoffs at intermediate points which the runners have to go through on time, or face the agony of being taken off and sent to the finish by an express shuttle service if they fail to make it on time.
The finish on the "down run" happens inside the Sahara Kingsmead stadium which runners enter and then run almost the entire length of the track before finishing. The Comrades Marathon alternates every year in direction. A "down run" starts from Pietermaritzburg and finishing in Durban, while an "up run" is the other way round, starting from Durban and finishing in Maritzburg. The route has 5 big hills on the way, the Polly Shorts, Inchanga, Bothas, Fields, and Cowies in that order for the down run, and reverse for the up run. Each of these hills are killers, some of them as long as 2KM. And if you are thinking that the down run is all down, thats not true as well, the Big 5 are very much there, and there are many more smaller hills which you have to have to encounter all along the route. Check out the official description of the route here.
The Indian Perspective – First Finisher Awaited
Which I was researching more about the Comrades Marathon, I just thought about checking how many Indians had run this event before. Or to put it better, how many runners have come over from India and run Comrades. I checked up the results for each of the last 84 years of Comrades on their website (yes, that was exhausting). Answer? In the last 84 runs, there was not a single finisher from India. In fact, an Indian had come close to finishing last year. Amit Sheth from Mumbai was there at Comrades 2009, and he made it all the way to the 45th Cutting checkpoint on the Comrades route, which comes at the 82KM mark and was to be reached in 11:15 hours from start. Amit was late at that cutoff, and hence had to stop there.
The 2010 Comrades not only inspired me to be there, but many more folks from India. In all, there were 9 runners who registered from India. Five of them were from Mumbai (Amit Sheth, last years participant at Comrades, his wife Neepa, Sanjay Dalal, Satish Gujaran and Daniel Carrol), one from Chennai (Shahid Kandrikar), and three of us from Delhi NCR (Rahul Verghese, me, and Ramesh who had to sadly cancel his plans due to an injury). We had established a Facebook group for runners from India interested to run the 2010 Comrades, and that was the medium through which we were able to connect with each other. Later we shared notes on how our training was going, plans for our long runs and where we were planning to do them.
To Durban, the Expo, and the Bus Tour
I guess everyone of the 8 runners from India landed up in Durban via the Emirates Airlines which goes via Dubai. The Mumbai folks were the first to reach by 25th, me and Rahul turned up on 26th followed by Shahid on 27th. We had managed to find a decent hotel by the Durban Beachfront, the Tropicana through the official travel partner for Comrades, African Links Tours. It was quite comfortably located in central Durban, with the Expo area, and the finish area at Sahara Kingsmead Stadium just about 20 minutes walking distance from the hotel. We did not spend lazing around in Durban other than the Expo, probably around 4 hours on 27th and another hour on 28th, the day of the bus tour. The Expo had shoes from Reebok, ASICS, New Balance, stuff from GU like Gels and other supplements, Garmin, Polar, etc. Basically anything and everything running related was there. We skipped the official bus tour and instead went with Karan/Meena who had invited us for the route tour inpromptu at the Expo. Karan was a veteran of 15+ Comrades and provided us many words of wisdom all the way. We stopped by the Comrades "Wall of Honour", which has plaques of former Comrades greats, and people can get their ones made and put on after they are a finisher.
The Night Before and the Race Day Morning
The good thing about staying in an "official" Comrades hotel besides a nice location was that they had everything we needed. The "Pasta Dinner" was specially arranged for us the night before. My race day kit was already arranged and lying all decked up in the room, ready to be stepped into in the morning. There were buses arranged for us to go to the starting point in Pietermaritzburg which were to leave at 3 am. By the time it was 8 pm I was already in my bed to get some sleep. Morning alarm went up at 2 am, and then there was a specially arranged breakfast for all Comrades runners staying in the hotel (and there were lots of them from all around South Africa and the world). The bus left sharp at 3 am, and we were there at Pietermaritzburg by 4:30 am.
At the Starting Line in Pietermaritzburg
The first thing we needed to do when we reached was to relieve the pressure we had built up doing all the hydrating in the morning. There were a lot of mobile units all around, but heck, the queues were taking infinite time to move, and by the time we were done, it was already 5:10 am, just 20 minutes to go for the 5:30 am start. We hurried to the starting area, which was broken up into seeding groups or pens starting from the elite 'A' group down to the 'H' seeding group.
As all the runners took their positions, the atmosphere was festive and electrifying. It is difficult to imagine running in fancy costumes and stuff in an ultramarathon. I guess doing this in a smaller distance run is fine, but when you have to do an 89K run, you have to make sure that everything from your underwear to your socks is not going to be a source of trouble later on. There were folks who were dressed up in traditional Zulu dress, and there were even runners decked up as a Rhinoceros (supporting a save Rhinoceros cause), which I learnt later was an 11KG gear! It was cold, with temperatures at about 6 degrees C, and most of the runners were wearing an additional layer which was provided with the goody bag. I had another full sleeves tee over my running tee too, and the packed atmosphere at the start was keeping us warm too.
The music at the start line included the Chariots of Fire theme followed by the Shosholoza song, to which all the runners sang along. I have to say that both are really inspiring, particularly the Shosholoza song, even when I do not know its meaning, will probably look for a translation later. The time was ticking by on the huge clock on the tower near the start line. The gun went off at 5:30 with huge cheers from the crowd. It was time to walk to the starting line, since running was not even thinkable with so many runners around. I heard later that there were about 16,500 starters at the race. It took me all of 5 minutes and 15 seconds to reach the starting line, time which had already been counted towards my race since they time it by the gun here, even though the timing chips are used here to prevent any fraud on the way.
The Run – As it Happened
I do not know how to even start describing the 89KM experience which is the Comrades Marathon. My longest training run had been a 56KM run in the hills of Nainital, which had taken me 7:38, a pace slower than the pace required to finish Comrades Marathon within the 12 hours time limit. And here I was, on a route which was even more brutal, and requiring to run a further 33KM, and that too at a faster pace. But as they say here at Comrades, you run the first half of the race with your body, and the second half with your mind. No amount of training makes you ready for this kind of run, from dawn to dusk, a journey which was going to take me the edge of my limits, or what I thought they were, till now. It would be a humbling experience, where at the end of the day, you may just see a new "you" emerge out of the shadows of the old one, one which knows no bounds of what you can achieve.
The First 21K – From Start to Highest Point
We started out from Pietermaritzburg, and it was still dark with the sun yet to come up. The streets looked well lighted and though I had heard stories of people falling over each other in the darkness in previous runs, it looked quite okay. It is said that you should keep your second layer on till you are through with the descent at the first hill, the Polly Shortts, at about 8K, so even if it was warm at the start, no one was in hurry to get to strip down to their vests. Polly Shortts in the down run is a no brainer, you run over her nice and easy, but this hill can really kill you on the up run when it comes near the finish. With such a large crowd, it is also difficult to think about your own pacing, you basically go with the flow. Besides, anything else would be foolish particularly for novices like me. As we went up and down a few hills, it was only a mass of runners visible as far as I could see, flowing like a gentle river over the road. I was just trying to hold myself back, particularly on the downhills to protect my quads, which were really going to be tested when we hit the big downhills in the second half. The 21K mark was reached as we hit the Umlaas Road, which is also considered the highest point of the route, but which should not be mistaken to mean that the hills are over. I guess it would have probably taken me about 2:35 or so to hit the 21K mark. I remember thinking about it and talking to a fellow runner too that the first 2 hours of running felt like running 20 minutes. That's what the atmosphere and the crowd can do to you, time flies, at least at the start.
The Comrades Marathon has got pacing groups, popularly referred to as the "Bus". So, their is a 10-hour bus, and 11-hour one, and a 12-hour one, and the goal of each bus leader (or driver) is to make it to the finish just a few minutes before the designated time for that bus. I did not really have any plans to get onto a bus (12 hours one was the only one that had any relevance for me). I had met Vlam, the very popular and much admired "Bus Driver" for the 12 hour bus at the Comrades Expo, and I asked him what his target was for the finish. The energetic, orange haired fellow replied a casual "11:52". He had already done his maths for the run and sounded confident. So, I had this thought that if the 12-hour bus did every pass by me, I would just hop onto it, and try to hang on till the finish. I noticed the 11 hour "Runners World" bus pass me by in the first 21KM, and it looked pretty small at that point with very few passengers on board.
The Halfway at 45K – Beginning of the Mental Battle
The halfway point is a very important point in your Comrades Marathon. Not only does it have the 2nd cutoff point, it is also a leading indicator of what you can expect from the race. If you are already feeling trashed, done and dusted, at halfway, then it will not take much time for your race to be over. The halfway also comes after a never-ending climb up the Inchanga hill, and the only option on that hill is to walk, almost the whole 4KM of it, as fast as you can. If you walk slow, every minute that you might lose here may take away that critical minute you might just need towards the end for whatever you are targeting. The halfway comes soon after you are over Inchanga and going down to Drummond. I reached the halfway (45K) cutoff point at 5:43. My online Comrades Coach had this as 5:15 or 5:20 for a sub-12 hour finish (or rather, an 11:40 one, keeping some margin). Before the race, I was thinking it would be okay if I can make the halfway at anything between 5:15 and 5:30, but here I was halfway at 5:43. I realized that I would need a pretty solid second half to keep me in the race, but I was confident of doing it, at least at that point in the race.
I was getting a lot of encouraging cheers from the Indian community amongst the spectators. Durban in particular has a lot of people of Indian origin, and they could either make it out from my face, or from the IPL Team India T-shirt that I was wearing. By the way, running is huge in South Africa, and running is similarly huge amongst the settled Indian community in South Africa. The Comrades brochure had the information that some India's surnames, in particular "Naidoo", "Pillay" and "Govender" were the most popular surnames amongst all the particpants, and "Naidoo" was right on top of that list. I would guess about a couple of thousand runners with Indian origin taking part in this year's Comrades.
Second Half – Its all Downhill from here
My quads were hurting by the time I went through the halfway, and even though I was stretching occasionally, I realized it will need something more than that to keep things on track. Fortunately, like a divine intervention, a medical stop came up right after the halfway. I stopped to get some work done for my upper thigh and quads, and the guy at that stop was real good. I was almost crying out in pain with the way that guy was going through my legs, but he definitely knew what he was doing. When my running restarted, I was feeling a lot better, and indebted to that unknown guy who helped me out.
I know that the first half is considered more hilly and all, but I could not help notice that it was really in the second half when all the big hills started coming. Right after Drummond were some big climbs, and the strategy was same as before, any significant climb, walk up them as fast as possible loosing minimal time. I was having fun running slowly down the downhills, unlike what people say that going downhill in the second half is big pain. What I found was that is was impossible to run over the uphills, not because of the legs, but because of the heart. I was out of breath running up any small hill, so it was a better strategy to walk over them. The heart was not a factor going downhills, and I was able to manage going down them slowly, running all the time. Any flat sections were similarly covered running, with no walking at all.
This summary would be incomplete without a mention of the crowd support we had, all the way. Right from the starting line, out of Pietermaritzburg, to the finish at Durban, there were a constant line of supporters along the route. Some of them had come for cheering their family members or friends running the race, and were taking alternate routes to meet the runners at various intermediate points (the main route was out of bounds for any vehicle). Then there was crowd who lived along the route and were out on the roads to cheer the runners on. Many had stuff with them too, like orange slices, boiled potatoes, which they were freely offering to the runners. Some were enjoying their favorite beers by the roadsides, and there was no shortfall of comments like "you are looking good, ladies", or "you are the champions". Those folks were really a big source of inspiration for all of us. There were kids, entire families, some even setting up their barbeques by the side of the road and having a great day.
The water stops were excellent, frequent, and well stocked. Initial stops had water and Energade, while in the second half, there was Cola, and some variety of a Soda drink too. I was having a GU Gel pack at the hour every hour, but after having 8-9 of them in the first 9 hours, they started giving me an uncomfortable feeling in my stomach, and I switched to natural stuff like potatoes and oranges.
Towards the Finish Line – The last few hours
I would consider the last part of this race as the point from where about 21KM were left to finish the race, which basically means about 68KM into the race. At some point before that, I asked what a reasonable finish time sounded like for us, and he said we should be good for a 11:40. So, I was running under the impression that everything is cool, and as they say "pain is inevitable, pride permanent". Pain management is they key to the race, you know you are going to feel it, big time, but your mind has to be strong enough to make you move forward through the pain (as long as that pain is not coming from something broken). However, as I approached this last big segment of the race, I realized I had about 3 hours to do it. I was still cool with that, of course running a half-marathon in 3 hours sounds easy, right? So, I just kept moving forward, with my average pace for the race now well into the 7:45/KM zone. I needed another working on my quads now, and this time it was a turn of a pretty young lady to do this. Well, she applied some kind of oil this time, and rubbed it in just so slightly, and had me on my way wondering whether that was any good at all. I was not sure if that really worked, but there was some relief.
As I went into the last 2 hour zone to the 12 hour limit, i.e. after 10 hours of running, I realized that I still had about 14KM to do. This is the point I started panicking a bit. I had seen my pace go into the 9min/KM zone at the end of my ultra training runs when you get hills and your legs are pretty much gone, and here I was, still needing to do another two hours in that kind of situation. The time had come, this was it, I had to run all the flats, I had to run all the downhills, and I still had to walk all the hills that came along as fast as I could to churn out an average pace of less that 9min/KM. My brain was into ovedrive doing all the calculations on one hand, and trying to keep my body moving on the other. This was where those limits were to be broken, this was where a new "you" was to be discovered. This was where you had to do things you had never thought you could do, into a race and past the 10th hour of running. This was it, the make it or break it point. There were runners who had given up hope and sitting by the roadside. There were a few who were being taken to the hospitals in the stretchers. I had started getting a buzzing sensation in my hand as I walked, but as long as it hadn't reached my head, I figured I was okay.
Another dilemma with all the calculations was that the hills were totally unexpected since I did not know the route much. The moment things started looking comfortable for a decent finish, along came a big hill, taking maybe 2-3 minutes of walking, and messing up the calculations again. So, besides the physical pain, things were getting on my nerves as well, and I managed to lose my patience at one of the stops when the runners in front of me did not move fast enough. Silly, I realize now, but at that point it is all crazy. However, I managed to cover up some time in the 11th hour, and that left me with about 1 hour 2 minutes to do the final 7KM to the finish, still not comfortable. Somewhere in this final 7KM stretch, the 12 hour bus also passed me by, and though I could not locate Vlam, there must have been about 200-300 runners who passed me by in one go as I had stopped to just stretch my legs a bit. Same story in this final hour, the moment you get comfortable and start expecting a finish within 12 hours, another hill ruins your pacing.
Finish Line – Finally, Finally
It must have been when the final two kilometers were left that I finally got that realization that I was going to finish it in time. I must have been left with about 20 minutes to do that distance, and I knew I could now do that walking, which I did for a 500 meter stretch before I entered the much awaited, and longed dreamed of Sahara Kingsmead Stadium. There was no stopping anyone once inside the stadium, everyone was running, and the joy was written large on every face I saw. I felt like crying as I reached for the finish line after thinking of just what had taken to do this, but I held my tears for later. It was an emotional moment, the kind of which I rarely feel. It was about 3 minutes to the gun as I crossed the finish line in 11:56:29, just 3.5 minutes before the 12 hour cutoff time. Post the finish, I just waited there to see that really torturous tradition of the 12 hour gun going off and the gates being suddently closed for all the runners. Their names will not be recorded, it would be as if they never ran. Brutal, but part of the Comrades history and traditions.
At the finishers area for International runners, I met Rahul, Shahid and Danny. Shahid had to bail out at 60K due to a back issue, but this is what the race is like. The smallest niggles can take you out. You may run though them in a half marathon or a marathon, but this is 89K though brutal terrain, and it all comes down to the day to find out if it would be yours.
Indian Runners – How they did
The Indian contingent did pretty well, with seven of us finishing within the 12 hours cutoff from the eigth who started. Satish was the first one in at 10:58 to secure a fantastic bronze medal. Rest of us got the Vic Clapham medal given to runners who finish between 11 to 12 hours. Rahul was the next one in at 11:33, Danny at 11:40, Amit and Neepa together in an amazing 11:50, Sanjay in 11:51 and I rounded up the list at 11:56.
Next mornings newspaper had my name in it. Yes, thats right. In fact, "The Mercury" had the name of all the 14,300 or so runners who finished the race out of the 16,500 that started. That comes out to be 85% finishers which is very similar to the finisher percentage most of the years.
Final Thoughts
So, that rounded off what was a wonderful and humbling experience for me. Will I be back here, I do not know. Would I want to do this another time particularly the "up" run, sure, but I would also want to do different races for different experiences. Maybe in the months ahead, I would like to cut down on my mileage and focus on shorter distances and try to improve my pace. Its all still in the air in the future. I still have to settle down and give time to myself and let this all soak in. Running will continue, that's one thing you can certainly bet one.