So long FR10, its sold. My first day with the TomTom Runner, its a loaner from my wife. Going through it yesterday was a revelation of sorts. Here's a comparison of the TomTom Runner as an entry level watch vs the Garmin Forerunner 10:
TomTom Runner vs Garmin Forerunner 10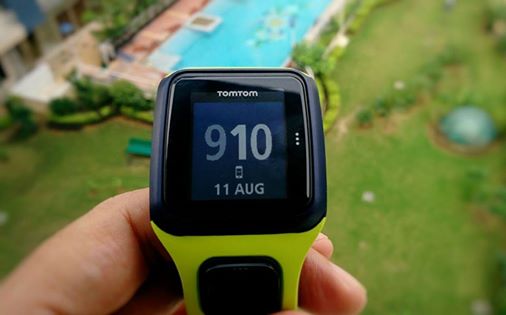 The Positives
It has twice the battery life (10 hours)
3 data fields on screen versus 2 on Garmin FR 10 (out of which the central one can be rotated at will during the run in between about 8-10 different stat fields)
A nice lap alert with buzz which was missing on my FR10
Ability to do intervals (warmup, N repeats of work + rest, and cool down)
Can show my stride rate (i.e. Cadence) after the run via a built in accelerometer, no chest strap or pedometer needed. This is a big plus, since I am focussed on improving it from a lowly 150-155 last year at 2014 Hyderabad Marathon, and am up to about 170 now, a huge improvement.
Has QuickGPSfix technology, which helps your watch get a GPS fix in 2-3 seconds (yes, verified and true), against the usual 2-3 mins or sometimes endless wait for GPS lock
Sync data wirelessly online via bluetooth, no connecting to the laptop anymore (though I am having trouble with this on my Nexus 5, on which it is supposed to happen automatically whenever the watch is within 10 meters of the phone. What I have to do to make it to work is to go into the phone and watch menus and repeat the setup steps)
Has HRM option unlike FR10
Lot more runner oriented functionality which I am yet to try, zones, racing against your previous time, etc
At $99 vs $94 (or so) for FR10, beats the Garmin hands down on features/$
The Negatives:
– I am used to Garmin connect website, better layout. But, I can live with that, not a big negative
Unknown for now:
– Distance/pace accuracy. Though I am not expecting any surprises there. Update: after a few runs (about 75km) I am fairly confident that distance/pace reporting is consistent and good.
Final Thoughts:
The perfect entry level watch for beginners at this price point. Period.
I am waiting excitedly for the next Garmin launch. Definitely giving the FR25 the pass. Its a step-up for FR10/15 users, but not by much.
Check out the TomTom Runner on Amazon India website.